Looking at our map of breweries that we've visited over the years, we noticed that a pretty big chunk of the country was missing. For our mini-moon, we decided to add a bunch of new pins to our map by making a quick journey west. I wanted the trip to be more than just beer, so we settled on something grand. And what could be grander than the Grand Canyon?
Flagstaff, AZ
While planning the trip out to Arizona, we decided the easiest approach to our week long adventure would be to fly into Flagstaff and fly out of Phoenix.  The bonus to flying into Flagstaff is that it only put us an hour away from the Grand Canyon. Also the primary objective of new breweries would quickly come to fruition as Flagstaff is also home to nine breweries.  Is there a better welcome to Arizona than some flights after our flights? We think not.
Flagstaff Travel Tip!
Now we know the first thing you're going to want to do is grab some beers, however, you should make a quick detour to the Flagstaff Visitors Center in the train station to pick up some Flagstaff Brewery trail passports.  Completing the passports entitles you to some nice souvenir swag (glasses, t-shirts, hats, etc.). And yes, we did complete it!*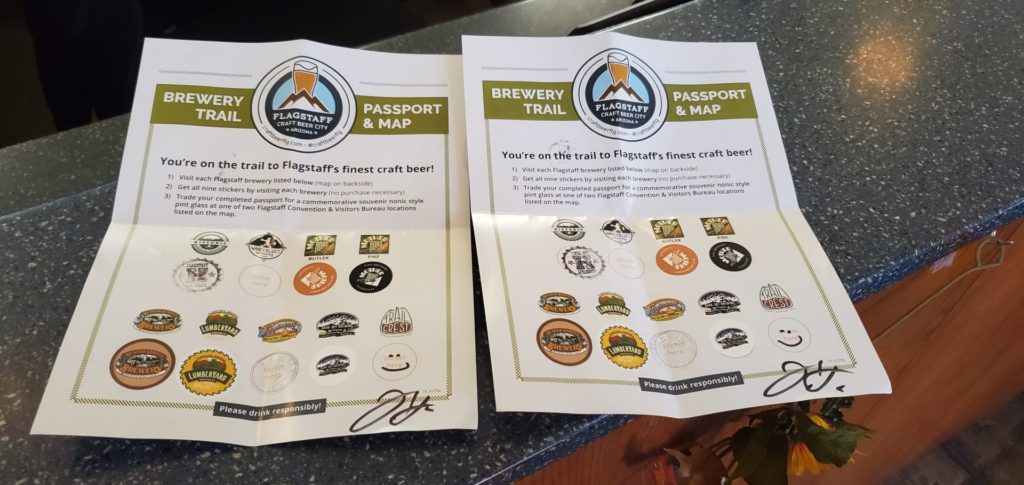 Our first brewery stop in AZ was Mother Road Brewing.  While we were there, Mother Road had a great lineup of light and refreshing beers to go with their 70 and sunny weather.  Now this 70 and sunny is practically summer weather to us coming from a cold and rainy NJ November so we couldn't help but to laugh at all the patrons wearing light jackets and long sleeves.  All the beers on our flight of six were well balanced and thirst quenching however we had a clear winner; Rising Hope IPA with Tangerine and Passionfruit.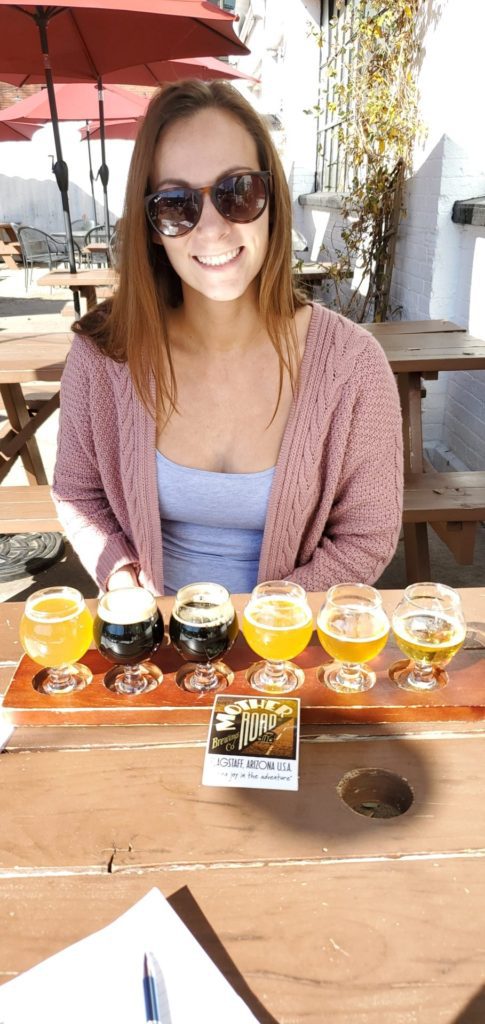 Right down the street from Mother Road was stop number two – Beaver Street Brewery and yes before you ask, it is on Beaver Street.  This brewpub offers traditional pub fare for lunch and dinner on top of a wide variety of beer styles.  Our two favorites of our flight of five were the Black & Raz and the Red Rock Raspberry Ale – I think we may have identified a pattern here.  We're not entirely sure what style the Black & Raz is but it was dark with a rich chocolate and nutty profile with a light and slightly funky raspberry finish.  Red Rock Raspberry Ale was a crisp ale with a more than subtle raspberry profile but not overpowering or funky. As far as food goes here, get the cheese curbs – you will not be disappointed.     
And we're still walking down the street right to our next stop and another brewpub, Lumberyard Brewing Co.  One of the first things you will notice at Lumberyard if you sit at the bar is that there is a very special tap, are a few TRULY taps.  Thats right, nobody's favorite hard seltzer has its own taps, at a brewery and they can even be served with shots of vodka. This TRULY is the future…Now that we've gotten that out of the way, Lumberyard is full of beer awards but we didn't have any in our flight of 6 that was overwhelmingly exceptional.  Our favorites of the flight, a Belgian Strong and the Red Rock Raspberry were both above average but we feel as if we missed their award winning brews. Be sure to tell us what we missed!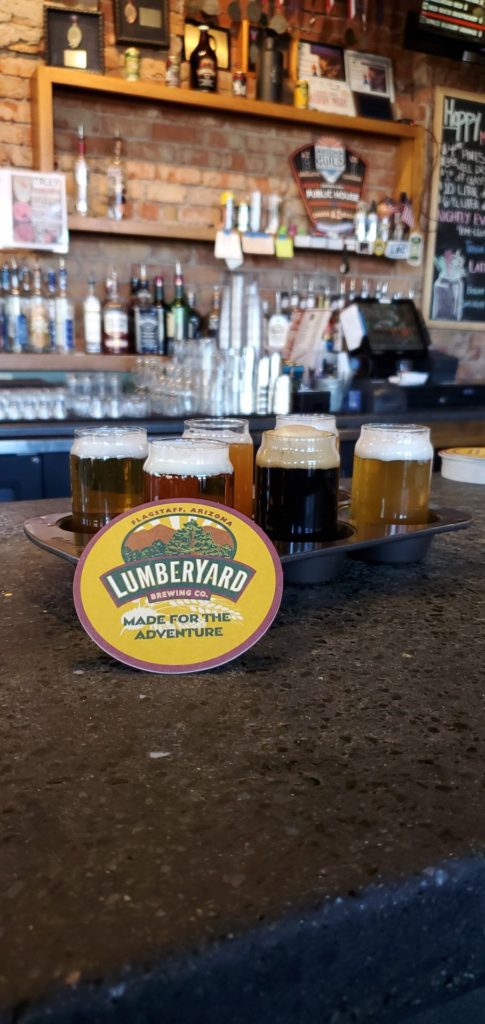 Across the train tracks, near the Visitors Station is Flagstaff Brewing Company, another brewpub serving good, but average beers.  The average brews don't seem to be a problem for FBC however as this brewery has been open since 1994 and still going strong as far as we can tell.  Our favorite of the flight was the Dunkelweizen which boasted malty and hefe flavors. They also pride themselves on a top-shelf whisky selection; which surprisingly Andrew didn't partake in.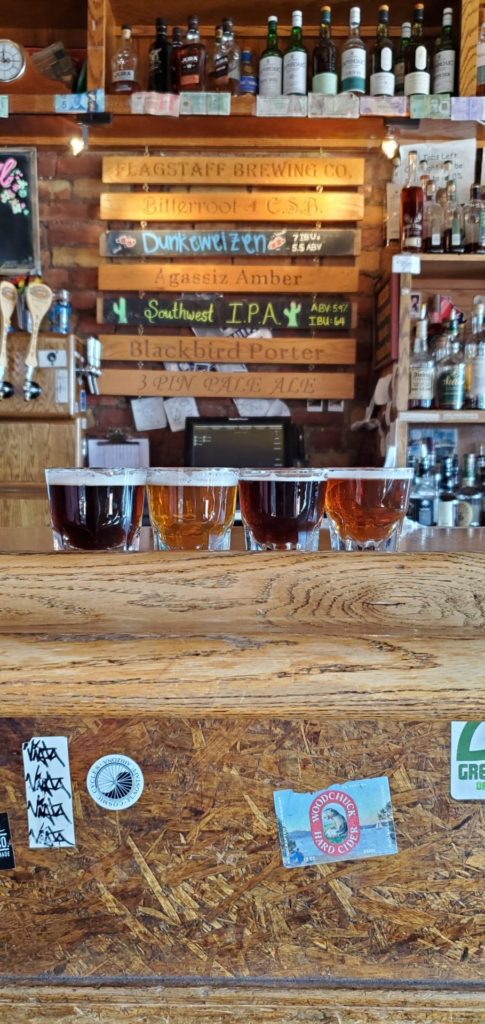 Next up is Historic Brewing Company; another downtown brewery with two other locations near Flagstaff – so don't be fooled by Google Maps!  The downtown one we visited had two bars, with plenty of beer and fancy looking cocktails. We showed up in time for happy hour pricing on beers and food.  The best beers on our flight were the Beaches Be Salty gose and the Piehole Porter. We also had the Pumpkin Piehole Porter variant, but we both felt that the original with chocolate, cherries and vanilla beans was superior to the Pumpkin version.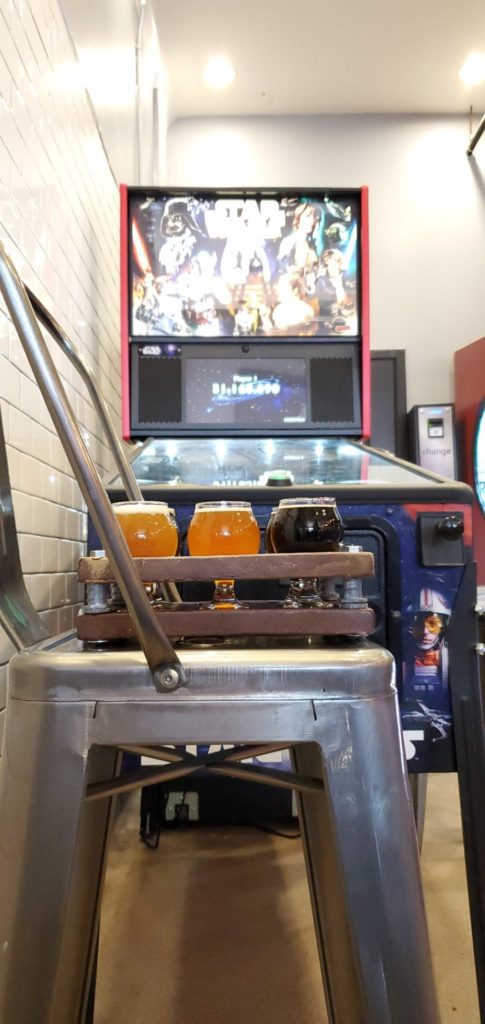 Our last brewery of the day and for our quick trip through Flagstaff was our personal favorite and your must visit – Dark Sky Brewing Co.  If you're a fan of sours, or just crazy beers in general this place is for you.  We couldn't decide what to drink from their expansive list of brews, so we tried 8 drafts; all scoring at least a 3.75/5 on Untappd.  The top two from our flight both earned perfect 5's. Astro Cookie is a delicious 9% imperial stout conditioned on 2000+ Oreo cookies; quite literally it was like drinking Oreos.  The other 5/5 was In the Shadows, a gin barrel aged sour with lots of hibiscus, jasmine and white tea notes. It's not often that a beer comes completely 'as advertised' and all the notes on a tasting sheets actually shine through, but Dark Sky managed to do it in all of their beers.  If you only have time for one brewery in the wonderful little town of Flagstaff, Dark Sky Brewing Co. should be your pick.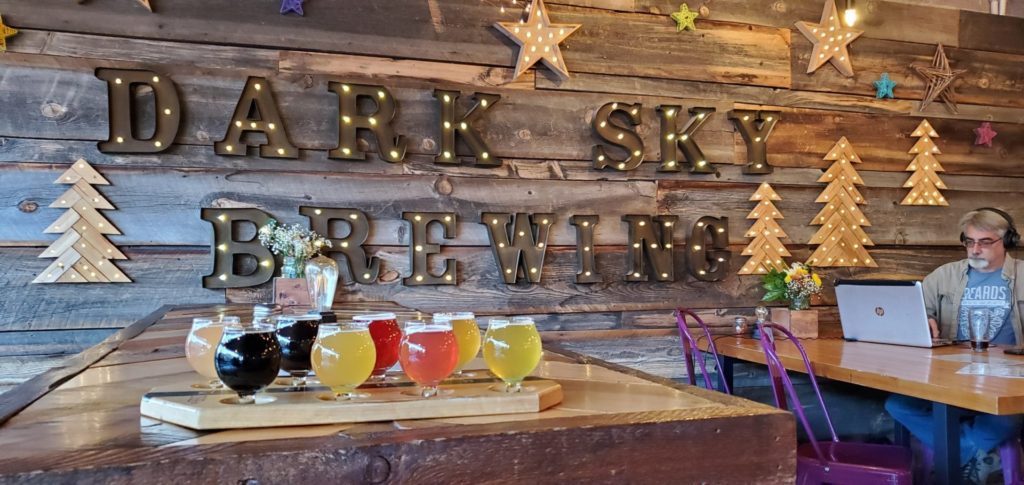 *Wanderlust Brewing was not open any of the days that we were in Flagstaff. We did take a picture at the location and that seemed to suffice to get our swag!