We hit so many breweries that we cannot come close to writing about them all.  Every now and again we get to circle back around to those random days and weekends when we hit a handful of delightful breweries and just do a short recap.  Today's excursion is about 45 minutes northwest outside of Philadelphia in Phoenixville, PA. If you're familiar with the area, you will also probably be aware that this hidden gem of a town has 7 breweries in it, and another 5 or so within 10 miles of the city limits.
In the City Center (and all within walking distance!):
Rec Room (by Conshohocken Brewing Company )
While not technically the brewery, the Rec Room by Conshohocken Brewing Company is guaranteed to be a blast in large and small groups.  This outpost taphouse has a plethora of tasty bites, good beers and excellent selection of party games including 5 ping-pong tables, 4 shuffleboard tables and 1 foosball table.  
Beerventurers Score:3.75 / 5
Root Down Brewing Company
This large, industrial/downtown feeling brewery has a strong nightlife presence; including an engagement party that we may or may not have crashed.  The beers overall were good, but there wasn't anything crazy on the tap list. Our top two picks went to two sour beers; they were just unparalleled compared to the rest of the lineup.  Salty by Nature and F'Root (Gooseberry edition) don't receive the highest marks on Untappd, but we can vouch for their flavor and we're sure you will enjoy them. 
Beerventurers Score: 3.75 / 5
Stable 12 Brewing Company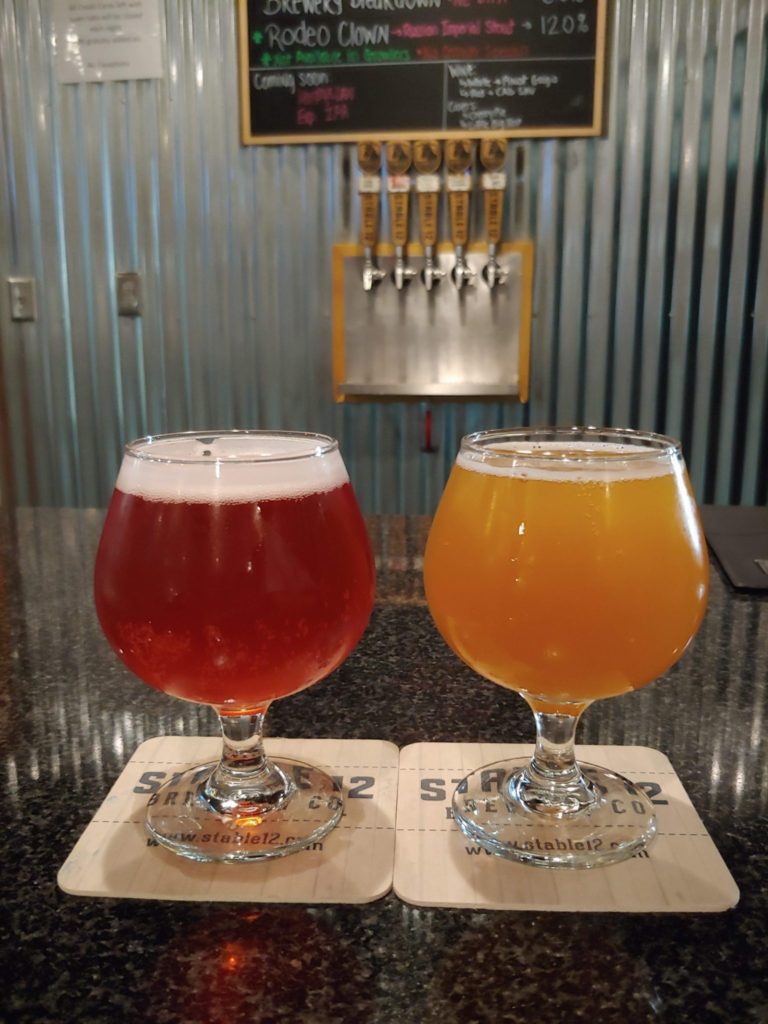 One of our blanket statements is that breweries with great outdoor spaces make for great breweries even if the beer isn't up to beerventurer or snob standards.  This 'Barn to Brewery' brewery more or less fell into this category. The beer was average to good, but the massive outdoor seating really sells the place. We didn't get a chance to try out the food so someone has to let us know if we never make it back that way.  Our beerscores that night rated between a 2.75 – 3.25; good but nothing out of the ordinary was present during our stop.  
Beerventurers Score: 2.75 / 5     
Crowded Castle Brewing Company
Another one of our blanket statements is that full service bars in breweries that don't distill their own product is never a good sign; and our perception is certainly reinforced when there are more cocktails than pints crossing from bartender to patron.  During our hour there, we counted roughly 2 to 1 cocktails to beers that night. I imagine that many breweries have a full bar for one of two reasons 1) easy money or 2) requirement for survival. Like Stable 12, the beers were mostly average in our opinion with the exception of Le Citron Saison which we scored a 4/5 on Untappd.  The citrus and lemongrass was the exception beer with bold lemongrass flavor.
Beerventurers Score: 3 / 5         
Iron Hill Brewery & Restaurant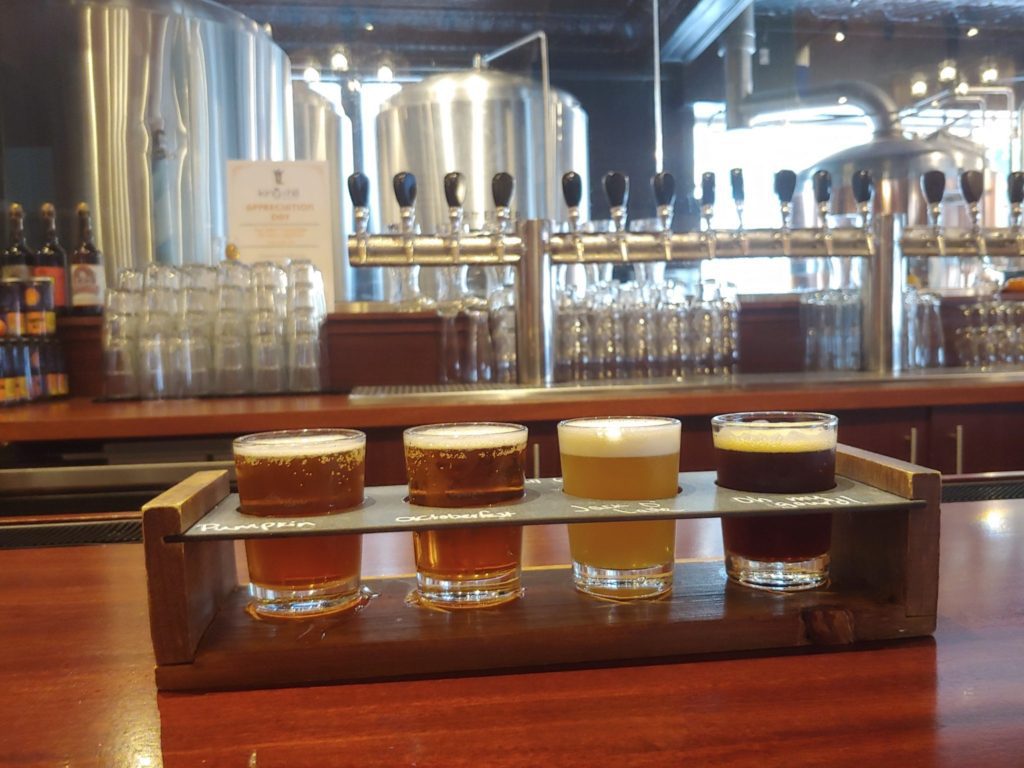 Iron Hill Brewery & Restaurant continues to be one of our favorite chain brewpubs.  Yes there are limited contenders in the field, but the fact remains that each Iron Hill location we visit continues to provide average to great beer; which is no small feat for a chain.  Iron Hill of Phoenixville, PA continues that trend of providing a combination of both safe average, as well as better – craftier beers as seasons permit. Iron Hill's food is great too; we highly recommend lunch here (and dinner at Rec Room). 
Beerventurers Score: 3.25 / 5
A short drive:
Rebel Hill Brewing Company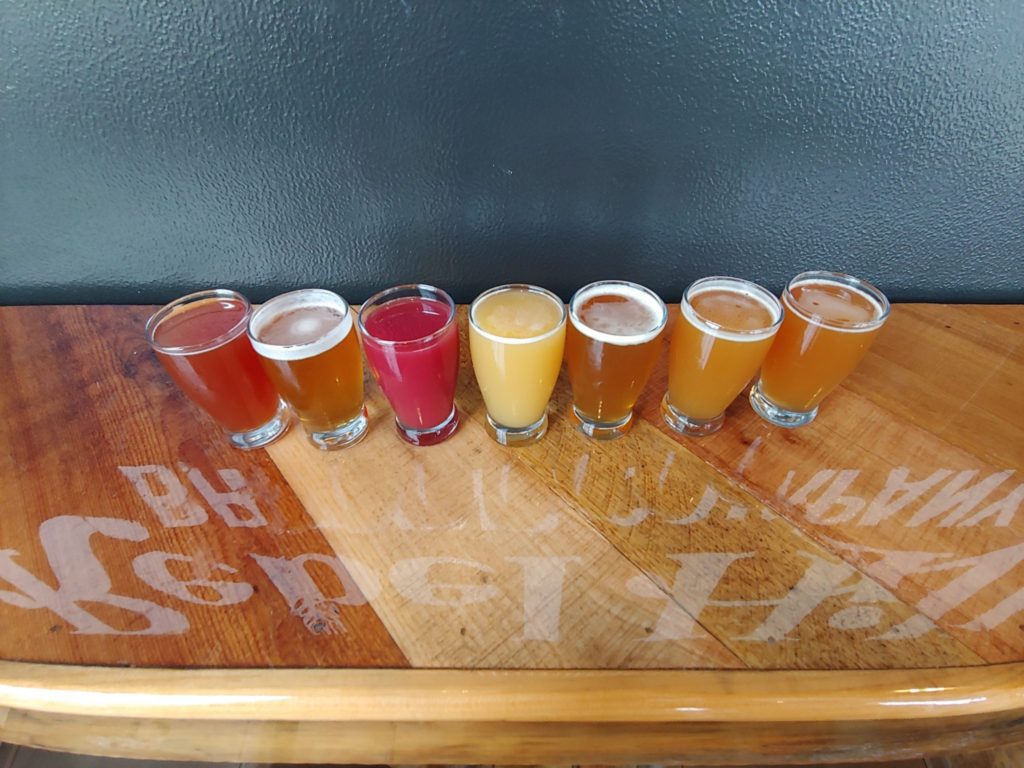 This brewery is located in the corner of a strip mall, making it a little unusual for the area populated with industrial and downtown breweries.  The small brewery makes around 43 different beers in their 7 barrel brewhouse. Out of the six we tried, we found two to be extremely well made. The Bleed Green IPA double dry hopped with Mosaic was certainly juicy, but the victor in our opinion was the even juicer Cosmis Passage Strawberry.  At 6.6%, this smooth, juicy IPA was strawberry infused to the point of actual juice bomb.  
Beerventurers Score: 3.5 / 5     
Sly Fox Brewhouse & Eatery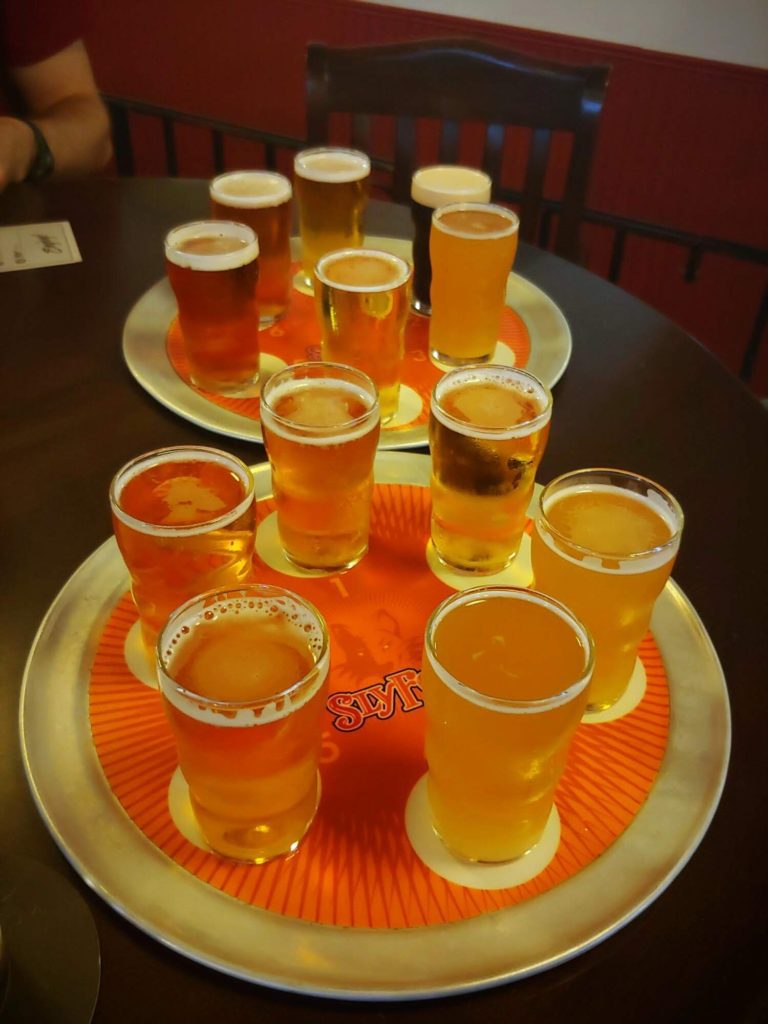 Located about 20 minutes southeast of the main production brewery, this brewpub outpost is just 1 mile away from Rebel Hill Brewing Company and naturally our next stop.  Sly Fox (not to be confused with Mad Fox of VA) has a wide selection of individual beers; 377 according to Untappd. Out of the 13 we've had from Sly Fox, we can really only recommend 3 as above average.  Route 113 – a Cascade centric 7% IPA. Royal Weisse – a smooth, slightly spicy 5.7%, easy drinking Hefeweizen. Vulpulin – The fabled juicebomb containing Citra, Mosaic, Cascade and Centennial at a sweet 6%.                  
Beerventurers Score: 3.25 / 5
Worth a stop if you're passing through:
Tuned Up Brewing Company
We love small town America.  The little town vibe and culture is really one of our favorite things to observe as we pass through brewery to brewery talking to locals about what makes their town home.  Tuned Up of Spring City had closed up shop as we were passing through for an annual muscle car show on their main street. While we couldn't step foot in the brewery, we were certainly able to check it off our list, drink their beers and talk to the brewmaster who was serving across from the live acoustic band.  Two of the three street beers we were able to try earned decent points (3.75 + 4 out 5 on Untappd). Winding Road Pale and Scored Woman IPA are certainly two beers to look out for. Also Raspberry Acid Freakout from what we're told.
Beerventurers Score: 3.75 / 5      
Brother Kershner Brewing Co.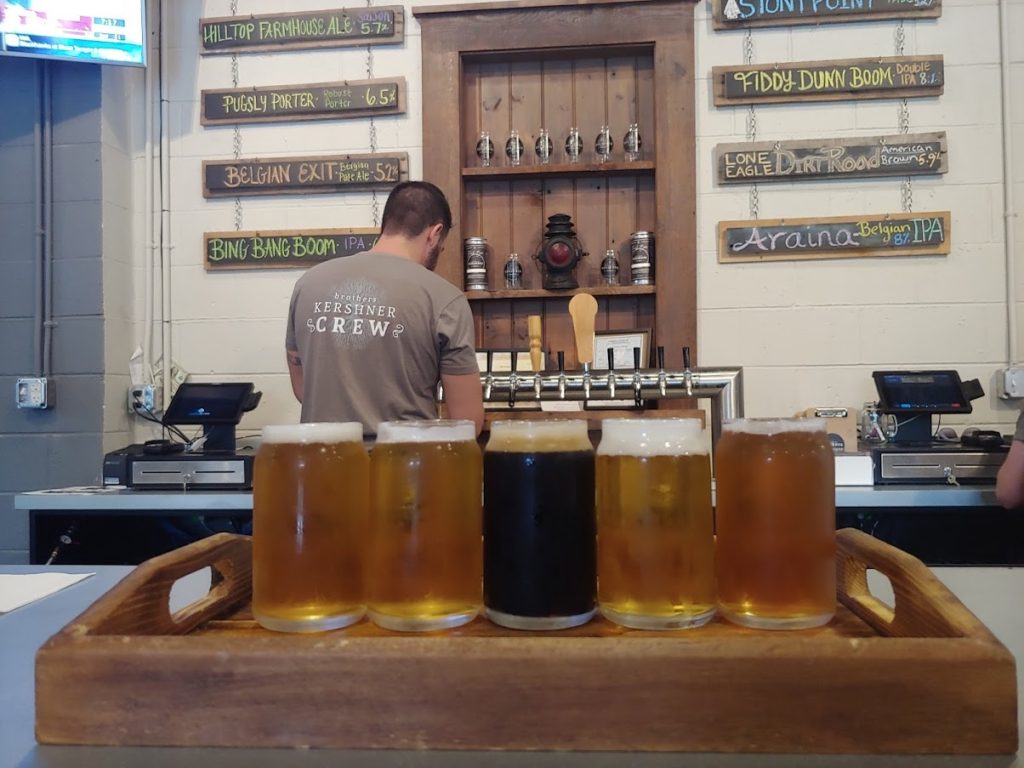 This beautiful brewhouse in Schwenksville, PA looks like a fine dining establishment; alas it is not.  If you're hungry and if the BBQ pit is open across the street run over there before grabbing a flight here.      
Big deviation from the plan, but worth your time:
Levante Brewing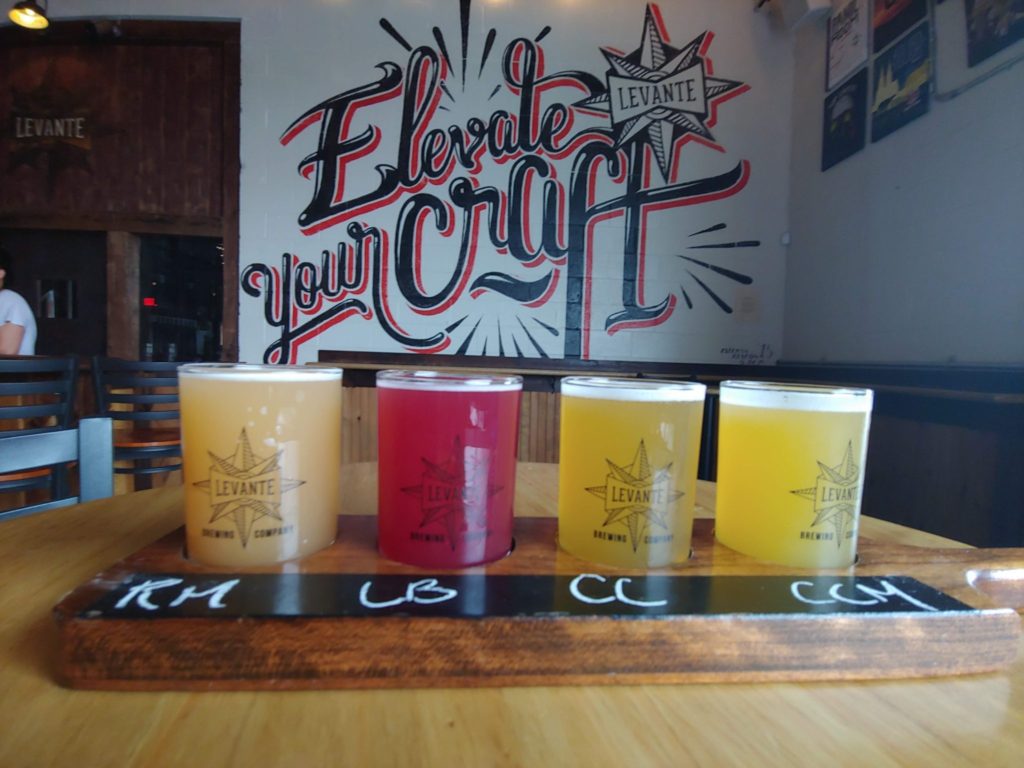 Located in kind of a deadzone for breweries, but not far from Victory, Kennett, Dew Point, Locust Lane and Sterling Pig was a detour worth taking.  Levante Brewing has a modest size taproom with outdoor seating, but they boast big game beers. From experimental IPAs in pretty cans (Glitter Parts series) to pretty beers like Fruit Fetish Bliss, it's really hard to hate anything from Levante.  This unique brewery serves up a line that keeps beer in a constant state of hybrid theory – crazy stuff like tea beers, frozen granita beers, vanilla bruts and so on. Levante is worth your time, attention and hard earned cash.    
Beerventurers Score: 4.75 / 5