In order to do Vermont the justice it deserves, we're gonna split up one day per post.
Vermont Trip July 2015 Day 1
Our Vermont trip was planned when our friend Jess, a native Vermonter, told us about the Vermont Brewer's Fest coming up in July. As Vermont was the last New England state we had yet to visit, we decided this was the perfect excuse to plan a trip.
First things first was securing tickets to the brewfest. Apparently these things sell out in minutes and there's a strict limit of 2 per person with no reselling. So that means whoever buys the ticket is obligated to show up. So at exactly the right time, Kait and I logged on to order our allotment of tickets to the Saturday morning session. After the initial freak out that one of us bought the wrong session, we had our confirmation emails and were good to go!
So luckily, being a student and working for your dad allows for some flexible scheduling. Andrew and I decided that one weekend was just not enough time to do Vermont breweries justice, so we planned on a full week and meeting up with Kait and Jess Thursday night. (note by May I am no longer a student, and Andrew is no longer working for his dad, so our flexibility is way down. booo)
I am normally responsible for planning out the routes. This normally entails me making a big google map with all the breweries in a location, figuring out the days and hours they are open and working with that information to create a route to maximize the number of stops in a sort of sensible way. Then comes figuring out lodging and food stops and any other local attractions to break up the beer. We decided, July was the perfect opportunity to test our camping skills.
DAY 1 (Brown's Brewing, Hermit Thrush, McNeill's, Whetstone Station)
We left early in the morning and made our first stop just outside of Albany, NY in at Brown's Brewing Company for an early lunch and flight. The beer was fine, nothing memorable but we knew we had to keep moving. We crossed over the border and made it to Madison Brewing Co. in Bennington, VT which was a pretty standard brewpub. We could already tell that there was a lot of Vermont beer pride and spoke with some new friends at the bar who gave us advice on where to go. They also had the Vermont Brewery Challenge passports readily available, which I appreciate. I am all for a good beer passport and am dissapointed when I miss out on potential stamps because it wasn't advertised (I'm looking at you, Maine and Mass).
Anyways, we continued on our way into Brattleboro. We found a parking spot and walked over towards Hermit Thrush, which was a small brewery that focused primarily on sours. I am all for a good sour so this was my kind of place. Also, a small brewery open on a Monday? Awesome! I don't think they actually offered a flight but we ordered a sample of everything you have a la Ron Swanson and got one of our prettiest beer flights to date!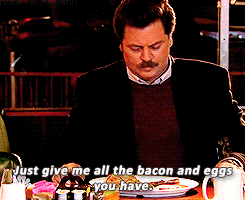 The beers were all interesting and unique including Green St Sour IPA which Andrew really enjoyed. Overall, we were both impressed and left with t shirts and cans beer to go.
McNeill's Brewery was within walking distance and we headed over shortly. I definitely felt like we entered into a local dive bar, a little dark a little dirty and mostly locals at the bar. But we ordered our flight and sipped our beer and it was pretty enjoyable and if I recall correctly a little high in alcoholic content.
The last stop of the night was at the Whetstone Station, also within walking distance! We went up to the second floor for the outdoor bar. On tap was an impressive selection of Vermont beer and other high quality beers from around the world. We enjoyed our flight with some chips and a view of the town. We made our way back to our campsite (Fort Drummer State Park) and made a delicious dinner over the fire and attempted to get a good night sleep because more beerventures were ahead of us!
TLDR; I know there's many more well known breweries and beer coming out of Vermont, but Brattleboro is worth a stop! You can visit each brewery with just one parking spot (always a plus, don't drink and drive!), and each has its own atmosphere. Hermit Thrush is a great craft brewery, McNeill's is a fun dive bar, and Whetstone Station has great Vermont beer and a great view!