1.21 GigaBiers?!?!?!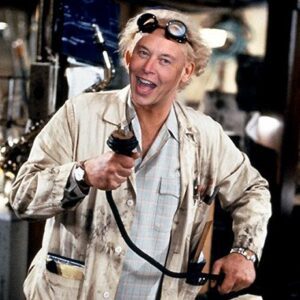 Did you guys order your CyberTruck yet? No? We didn't either. After the baseball demo, we figured we would wait until v2 comes out.  However, if you love Tesla, love the CyberTruck and want a Tesla inspired beer, you my friend are in luck. The Tesla GigaBier is 1.21 gigawatts (990ml) of fun.  That is if you're a European.
The Musk has dropped his next big thing this morning and it is a stylish bottle (found here) of Pilsner.  The bottle was designed to "emulate the form of Cybertruck while honoring the 500-year tradition of German Reinheitsgebot beermaking." (Definition of Reinheitsgebot below) So how do you get a Tesla GigaBier?
Well, because this is a Musk product, it means exclusivity!  The Tesla Gigabier retails for  €89, and ships to a only a handful of European countries.  This limited edition Pilsner is brewed in Berlin, using an exclusive strain of Cyberhops (noble hops) and claims to have notes of citrus, bergamot and fruit.  So, what's the reason he can sell these for €89? Well, the glow-in-the-dark GigaBier watermark of course…
So is this more or less exciting than the powdered beers coming out of Germany?
Reinheitsgebot
For those of you who are unfamiliar with Reinheitsgebot: The Reinheitsgebot, also known as the German Beer Purity Law, is an old regulation from 1516.  The beer regulation states that beer can only be brewed using four ingredients: water, barley, hops, and yeast.
I know what you're thinking – that means they outlawed all of the fun stuff! Well kind of, the law was actually created to ensure the quality of beer remained high and prevented brewers from using cheaper ingredients to cut costs. The law is still technically on the books, but it isn't enforced.  However, it is a badge of pride that traditional brewers still wear today.  After all, the ability to make clean, delicious tasting beers without adjuncts is an exceptional skill.