Top 5 Breweries in Portland, Oregon!
We've finally made it to one of the Pacific Northwest's beer meccas; Portland, Oregon.  With 70(ish) breweries in and around the city, you're never more than a stone's throw away from a fantastic flight.  We were only in Portland for 3 days, but we managed to visit 19 breweries (plus another 9 in the surrounding towns.)  As we're behind in posting again, here are our Top 5 Breweries of Portland, Oregon!
#5: Chuckanut Brewery P. Nut Beer Hall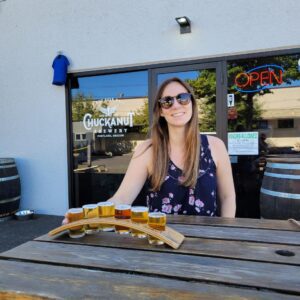 Coming in at number five is the cleanest entry on our list.  Chuckanut Brewery P. Nut Beer Hall (aka the P. Nut) serves up some of the cleanest beers we had on our trip.  The beer hall is a perfect spot to hang with friends while enjoying one or ten of the Chuckanut beers on draft.  They also have a cider or two on tap and some wines behind the bar for those who don't drink beer.
Our two picks from Chuckanut would be their Pilsner and the Rauch Helles.  Their classic Pilsner is sweet, clean and bubbly.  The Rauch Helles was a delicious collab with Red Hook Brewers.  The smoky notes from the rauch malt were more than subtle but not overpowering; a perfect blend for fans of the rauch style.  Yes – technically it's not their brew house but we consider outpost taprooms an extension of a brewery.
#4: Baerlic Beer Company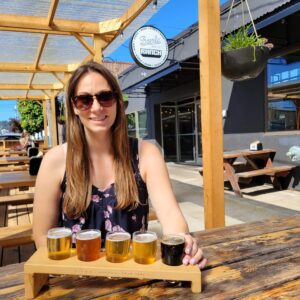 In fourth place was Baerlic Beer Company.  A late contender on our Instagram users chosen "must visit" list but a welcomed addition for sure.  We almost skipped Baerlic until more locals than not told us it was a must hit.  Baerlic did not disappoint.
The two best brews on the flight were the Punk Rock Time California style IPA and the Woodworker Perpetual Astonishment barleywine.  The California IPA was developed with hop heads in mind.  The 6.2% IPA was generously dry hopped with Amarillo, Strata and Chinook hops.  Most of the notes were citrus because of the Amarillo and Strata, but there was also a nice piney flavor with the Chinook addition.
While not the most massive barleywine we've had over the years, the 9.8% Woodworker Perpetual Astonishment had bold coffee, cocoa and vanilla flavors.  Some purists would scorn the adjunct barleywine, but the traditional caramel and toffee notes were well supplemented by the coffee and vanilla.
#3: Ex Novo Brewing Co.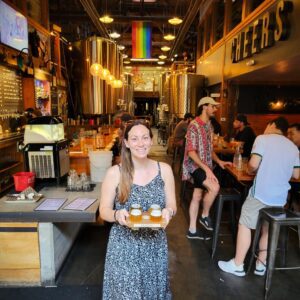 Ex Novo Brewing Co. fought hard for their 3rd place position in our Top 5.  Of the 8 beers we tried everything fell above the 3.5 mark with ease.  Lucky for me, and not so much for Melissa, we visited at the start of "Fresh Hop" season.  Fresh hop beers are exactly what they sound like and Ex Novo had several on tap already.
Their Eliot IPA, our favorite from Ex Novo, came in two fresh hop varieties – Strata and Centennial from Goschie Farms about 50 minutes south of Portland.  While the standard Eliot IPA sits at a 3.85 on Untappd, the Strata and Centennial fresh hops excel past 4.1 and are clearly local favorites judging by the comments sections.
Ex Novo does offer beers other than IPA's, but for hop heads, Ex Novo is a must visit late September thru early October.  If you're not a huge fan of hops, give the Cactus Wins the Lottery a shot.  The easy drinking, 4.3% Berliner with prickly pear hits the spot on a warm September afternoon.
#2: Wayfinder Beer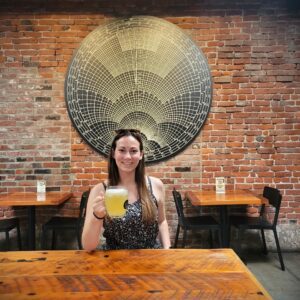 Sliding into our number 2 position is the famous Wayfinder Beer.  The lager-centric brewery has a clean, modern, wood and brick tap room, a great porch and some of the cleanest beers we had out west.  For those of you who live on the west coast, this probably isn't news to you.
For those of you planning your visit to Portland, your must try beers will be the traditional Helles lager, a cold IPA and in my opinion the best NEIPA we had in Portland.  The Hell Lager is as effervescent as a beer can be and a perfect pour for their 12pm opening.  The clean and clear Original Cold IPA was in stark contrast to their hazy boi Flower in the Kettle.  Both beers score very well on Untappd, so we recommend trying both.
Honorable Mention: Cascade Brewing Barrel House
Before we visit our number 1 spot, our bonus pick is the Cascade Brewing Barrel House.  Narrowing down a top 5 list was hard considering the amount of amazing beers in and around Portland, but we would be doing you a disservice not to mention a brewery we've been drinking from since 2014! For those of you unfamiliar with Cascade, their sour beers rival your global favorites.  We had their Kagua Sour from 2018, a collab with Far Yeast Brewing of Japan, and it was such a unique experience.  The beer is a blend of sansho pepper, yuzu and citrus aged in red wine barrels.
The Cascade Brewing Barrel House has a constant tap and bottle rotation will leave you hungry for more.
#1: Great Notion Brewing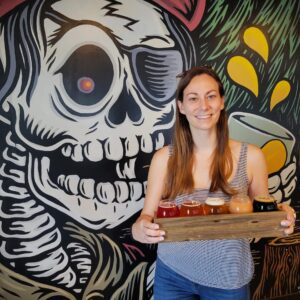 If it wasn't obvious by now, our number 1 pick is the most famous brewery in Portland.  Needing no introduction, Great Notion Brewing will be your first stop and also probably your favorite. Their beers range from hazy IPA's to jammy sours to incredibly rich stouts.
Great Notion also offers cleaner beers for the less adventurous beer drinker, but with beers like "Blueberry Muffin", "Double Stack Imperial Breakfast Stout", "Big Papaya" and "Jammy Pants", do you really want to spend time with anything less than something named "Double Fudge Coconut Brownie"?
Visit Great Notion – it is the stop in Portland.
And that is our Top 5 Breweries in Portland, Oregon! Did we miss your favorite?  Let us know below.  Our 19 visits were hand selected by our friends on Instagram as being the best the city had to offer; so don't blame us 😃
While you're here – what are your thoughts on a Tesla beer?