During our short stay in Savannah, the highlight of the trip was definitely our first Savannah Bananas baseball game. Now that we are official super fans, we would like to help you with a little guide on what to expect!
Get your tickets early!
The Bananas sell out every home game- the current streak is 88 straight. As of 7/5/21, the entire season was sold out. But there are still a few ways to get to the game. Search facebook marketplace or the facebook group. Stubhub had nothing available and completely overcharges you so avoid that if at all possible.
Get to the game early!
The fun starts as soon as you walk up to the gates and get your tickets scanned by bananas! There's music, games, and dancing that you don't want to miss! We were lucky and got one of the last parking spaces in the stadium lot.
Find your seat ASAP!
Tickets are general admission, so the mistake we made was not securing seats when we got to the game. Divide and conquer if you need to. There's plenty of food so that can wait. The best seats are in the main grandstand but the bleachers are great too! Players, the emcee and owner make their way around the stadium but these are the best spots for witnessing all the action. True Bananas fans know the drill and will save their spots so get there early!
Pace yourself!
The general admission ticket also comes with unlimited food and drinks (non-alcoholic). Food includes hot dogs, burgers, cheeseburgers, chicken sandwiches, chips, and cookies. It may be tempting to grab six hot dogs and three burgers, but the food won't run out so don't go too crazy! There's also paid food options including cheese fries and garbage can nachos if you're into that.
Get the Banana Blackout…
You can only get one per game (they will check!). It's a cocktail made with banana puree and grain alcohol. Sounds enticing!
They have their own Savanna Banana Beer!
You can't go to a game and not get a beer, right? The Bananas have their very own beer, the Savannah Banana Beer, made by Savannah's Service Brewery. Did we mention the beer is only $5?
Learn the Banana Ball rules!
Banana Ball is a new spin on traditional baseball rules. It keeps things fun and exciting every inning! Not every game is a Banana Ball game, but it should be!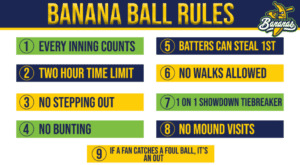 Be ready to have a great time!
The slogan "Fans First" really rings true at a Bananas game! This is an event that is great for kids and adults alike! There is nonstop antics and music and fun! From picking one opposing player to strikeout so everyone gets a free donut to dance offs and sing offs, we were laughing and cheering all night!