For those of us who don't know a whole lot about the state, there are a few things that come to mind when you hear the word "Tennessee."  Country music, whiskey, and of course Nashville. Being that Nashville is one of the biggest bachelor and bachelorette capitals of the world, we figured there had to be plenty of beer (and spirits) to go around this party city.  A short google search later; 24 breweries popped up on the map so we booked our flights for the Honky Tonks.
Spirits
If beer isn't for your SO, bachelorette or bachelor party, there are plenty of distilleries around the area too!  We were able to hit two distilleries, and one brew-stillery on this trip. Opening early at 10 am on our weekday flight in was Smith Creek Distillery. While actual distilling doesn't take place in this mall location, this moonshine outpost in Nashville is stocked full of hard stuff and free samples to boot.  How many types of shine? 12. How many samples can you have? Also 12. Yep it's 10 am and you can get your buzz on with Smith Creek. My personal favorite was the Peach shine, while Melissa preferred the sweater Butter Cake shine (It's like Paula Deen in a bottle).  Of course we left with three mason jars of the stuff – who wouldn't?     
Also open at 10 am, and bit of travel outside of Nashville is Prichard's Distillery at Fontanel.  This small distillery produces a whopping 7 different rum variants, 6 whiskeys, and 5 liqueurs.  Rum really isn't our thing but we really enjoyed the Peach Mango Rum; probably would go great in a mojito or just topped up with a coke.  Whiskey is my calling, so the Double Barreled Bourbon had me at first glance. Interestingly enough we actually walked out with bottles of a liqueur instead of any whiskey or rum.  The Praline Cream Liqueur and the Fudge Brownie Cream were nothing like we've ever experienced making for an excellent addition to our bar.  
The brew-stillery we hit was the Corsair Distillery & Taproom.  You can read more about this in the rest of this post.  Please keep in mind that the headquarters is in south Nashville while the outpost is just  blocks north of Broadway; if HQ vs. outpost matters to your travels.   
At a glance, it looks like there are 11 distilleries within 20 minutes of downtown Nashville at the time of writing this.  So venture forth, let us know what me missed, and feel free to send us a bottle 🙂  
Nashville Hot Chicken
Ok, so I'm not a culinary expert so please see this enclosed wiki on what Hot Chicken is: (https://en.wikipedia.org/wiki/Hot_chicken)
Long story short, you must order Hot Chicken while you're down in Nashville – it is a thing that people line up for.  Now, everyone has their own version of Hot Chicken, we had several iterations over the course of a week, but there are two Hot Chicken places that you should be aware of and make an effort to hit at least one.  Hattie B's and Prince's Hot Chicken Shack. We chose to visit Hattie B's. Our recommendation is to order online for pickup, it will literally save you an hour (maybe more!). If you don't get to either of those establishments, we've also observed (and eaten) hot chicken in a few of the Tennessee brewpubs.
Our first brewery of our trip was one that the locals (and internet) raves about; Southern Grist.  There are two locations, but we were closest to the East Nashville taproom location on Porter Road.  According to the bartender, both locations usually are in sync with their tap list. The not-the-most-spacious location hosts local musicians, trivia night and apparently a couple from Rochester (shout-out to my upstaters!).  
Since this was our first brewery of the day, and the internet hype points were unreasonably high we went with two flights of 4 on these well crafted little Tennessee state paddles.  Our top 3 by far were the Triple Dry Hopped 3rd Anniversary DIPA, Key Lime Pie Gose and the Pina Colada Loud Whispers. If you're around for the 4th anniversary DIPA, you're in for a treat because you will probably never get the chance to experience the 3rd (not fresh at least!).  Melissa being the sour fan voted for the Key Lime, and myself being the pale ale fan voted for the Pina Colada – both beers were true to their names.
Southern Grist is one of our top-tier must stops while visiting Nashville.  The internet hyped up these phenomenal beers, and they delivered. Southern Grist scored a rare 4.9 out of 5.
Several breweries in the northeast claim to be in "industrial parks," however seldom do we see actual industry taking place such as an active refinery and a power station.  Bearded Iris was in a literal industrial park and this place is a hipster's paradise.  
Despite being in an industrial park, this brewery had a weird classical Alice in Wonderland feel. And despite the menu proclaiming that they "Cultivate Variety" we found only one imperial oat stout and one pilsner amongst two IPAs and eight (yes, 8) DIPAs. I mean, do what you do well, but that's not exactly variety.
On top of the lack of variety, Bearded Iris did not offer traditional flights but stuck to half pours so we just decided to sample three. I'm not much of an IPA fan so I stuck to the V. Latte oatmeal stout which was quite tasty and Andrew sampled Mad World and Double Homestyle which were both solid if not a little too heavy for being DIPAs. If you're a hop head in Nashville, this is definitely a stop for you!
Like we said, if you're a hop head than Bearded Iris is for you.  If you're looking for alternatives to a hop-centric lifestyle you should consider steering clear unless you check their tap list online first.  Bearded Iris receives a 4.25 out of 5.
Originally, our plan was to go to Hattie B's for some Nashville hot chicken but we saw the line and kept moving.  If you haven't already read our section on Hot Chicken (above), do yourself a favor and do that now.
A few people we described Tailgate's brewing and naming process as a slot machine – adjective, noun, beer.  We would describe this assessment as accurate as we did see a lot of intriguing names. This randomization process also seemed to cross over to the food menu as well; we ordered a mac and cheese pizza (which was delicious). Other pizza options included the classic taco pizza or the monthly special shepherd's pie pizza. A lot going on here. Overall the beer was decent, nothing spectacular. We assume that they use the same base beer with different additives to get so many beers on tap. Also please note I was killing mean Girls trivia but sadly we left before the final round.
We had an Oatmeal Raisin Cookie Amber, Mexican Hot Chocolate, Mixed Berry Sour and a Peanut Butter Milk Stout.  Overall the beer was decent here with really nothing spectacular of note. There are an ungodly number of taps here, but casually glancing down the list we have to assume that they use the same base beer with different additives to get this quantity of beers on tap. 
Tailgate Brewery offers a lot of good pizza, live music but average beers; we give it a 3.25 out of 5.  
As a side note:  I was killing Mean Girls trivia but sadly we left before the final round.
We headed on towards Yazoo Brewing Company, and we walked in just before last call.  Apparently they did serve flights, but at this time of night they only poured flight sized pours without the paddle – sure, why not.  The taproom itself is open space, long tables and felt a little like a skate park gift store.  
Out of our paddle-less flight of four, two were rated 4.25+ on Untappd.  The Hopry DIPA and the Grisette. Hopry is a 7.9% Amarillo, Chinook, Nugget and Columbus blend.  It's seldom we get to experience West Coast styles in today's day and juice-bomb age so this was a welcomed resin surprise.  The Grisette was the Sauvignon Blanc French Oak barrel addition which was dry hopped with Nelson Sauvin; light, crisp, funky.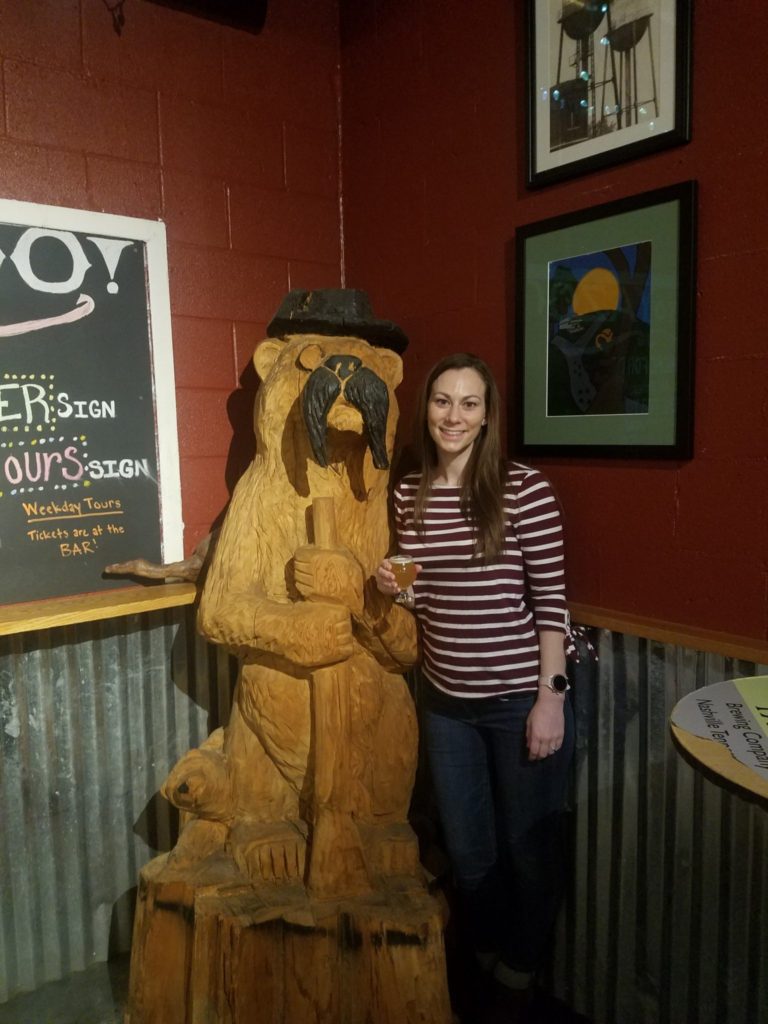 Yazoo Brewing Company didn't have the same quantity of offerings that Tailgate did, but they did manage to excite our taste buds with the quality.  Yazoo Brewing Company receives a 4 out of 5. 
Jackalope was our last stop of the night.  Like Tailgate, Jackalope is also a trivia spot with a packed house.  We noted that this trivia was way harder than Tailgate's; but then again I am an expert in all things Mean Girls. 
Andrew is in love with the logo because jackalopes are his favorite animal and I don't have the heart to tell him that they don't exist.
On our flight we had the Rainy Days Blues, Chaiwalker, Bearwalker and the Brutiful Beast.  Our top two were the Brutiful Beast and the Chaiwalker. Brutiful is a play on the popular brut style IPA; a dry, champagne-like beer.  This brut did have a distinct juice flavor making it stand out a little from its competition. Chaiwalker, a variant of Bearwalker (a light brown ale infused with maple syrup) sits at 5% and is packed to the brim with chai tea.  Some might argue it has too much spice, but we are in the camp saying it comes as advertised.
Jackalopes may not be real, but this is a brewery you can believe in to have a good time and great beer.  Jackalope Brewing Company earns 4 points out of 5.